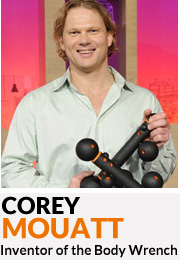 You – whether you're a professional athlete or a champion couch potato – have been utterly failed by the health and fitness industry.
I know, because I was, too even though I thought some of the best professionals of that culture had my back. Between being drafted to play pro football (Australian Rules – a wild game!) and my first season, I suffered a largely preventable injury. Even with world-class trainers at my disposal, this muscle tear – something I had done nothing to protect myself against -- was then poorly managed. Everyone was well meaning, but between my ignorance and my trainers' misguided approach, my pro ball days ended before I got to suit up for my first game.
How did this happen? It's the same the world over: An emphasis on strength that accepts – even encourages -- near chronic pain while completely ignoring muscle care. Don't get me wrong, I love being lean and strong -- and my girlfriend likes it that way, too. And I love the burn that gets me there.
But strong muscles that are well cared for are what really count.
I invented Body Wrench as the go-to tool for making this possible. Regardless of how you exercise – weights, calisthenics, Pilates, Zumba, swimming, running, yoga, biking, etc. – or even if you don't exercise -- Body Wrench will easily become a part of your daily routine.
For you natural gym rats, Body Wrench will make your workouts more productive, help you recover faster and just feel better quicker. For the majority of you out there, who are less active… I know you have aches and pains, too! I know how hard it is to get moving again. People in your situation make up a huge portion of my practice. I feel your pain and frustration – literally, with my own hands, every day!
Here's the greatest thing: Using Body Wrench Smart Strength and Body Wrench Muscle Care actually feels good. No, I take that back. It feels GREAT. You'll look forward to your time with this tool. And every minute spent with the Wrench delivers real, substantial benefit.
Body Wrench will unlock a better future, no matter where you fit in the spectrum between superstar and sloth. And you know what? In the course of working with it, you may find that because you're feeling better and getting more in tune with your muscles, you'll become naturally more active, no matter where you started. How cool is that?
With both kinds of people in mind -- the world-record competitor and the soft-in-middle-age parent – I went to work on the Body Wrench. It's the result of nearly a decade of research and design. Through those years I tested it virtually every day in the real-world laboratory of my physical therapy practice. My clients, from all walks of life, guided Body Wrench's development. It's now a centerpiece of my practice. People I used to see several times a week I can now see just once a month, because they can care for themselves with Body Wrench. That means I get to see more people, which is my goal: More people feeling better, being stronger, living happier because their body is treated like a friend, not abused or neglected like an enemy.
If you're into fitness already, this will become the best friend you carry with you virtually everywhere. You'll look forward to grabbing time with it whenever possible.
If you've been away from exercise for a while, Body Wrench will be a FANTASTIC way back. You'll feel like you're treating yourself. Because you will be! This will get you back into the swing, feeling your muscles, paying attention to them, caring for them. Soon, starting to work them more will seem like a natural, pleasing next step. You'll be living better and feeling better. You'll start figuring out how to have one handy for all the times you'll want to hop on.
Corey Mouatt
Brisbane, Australia