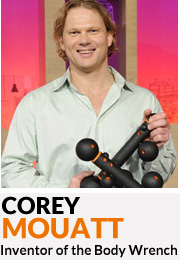 Corey Mouatt
Body Wrench Inventor: Certified Physical Therapist and Athletic Trainer
Brisbane, Australia
My adult life started with a profound disappointment. I was in training for my first season as a pro football player (Australian Rules… a wild game!). But my career ended before it began because of an injury. I was certain that if I had been in a different kind of training, and if I had had more thoughtful treatment afterwards, I could have lived that pro ball career I had worked my whole life toward.
Partly as an answer to my lost career, I earned a graduate degree in physical therapy at Queensland University, which is pretty much the center of the universe for PT research and teaching.
I opened my own PT practice where I treat plenty of regular folks from the neighborhood. But I also specialize in elite athletes – amateur and professional. They're some of the best athletes in the world. It was great.
But then I faced a threat to my new career – all that deep muscle work on people with my hands, particularly the thumbs, was killing them. Body Wrench started as a jury-rigged tool (actually, just a claw hammer with the handle sawed short) to use leverage and to mimic my thumb on a client's back. As it evolved over the years, I found it could be more than a therapist's tool. I started to teach clients how to use it on themselves, for SELF deep-tissue massage. It was a huge success.
And then, another great, accidental discovery. It was also an utterly unique tool for super-targeted strength work – perhaps the best pushup ever devised, and ab work that can leave an Ironman Champion breathless.
Best of all, with the same device a person can alternate strength work and recovery work within the sam workout. This breaks up the monotony, adds fun, reduces misery and greatly improves the effectiveness of each workout.
While I'm sure we'll improve it in the years ahead, it's darn near perfect. It's the product of nearly a decade of development, and my PT practice was my lab. Every new version went through the test of use on and among my very demanding clients. They guided its development. This is a brand new product… with ten year's proof of mdesign excellence and incredible, real-world results. I know you'll enjoy it. Everyone does!